Swipe for Love: "Meeting someone online has a different kind of excitement!" – Times of India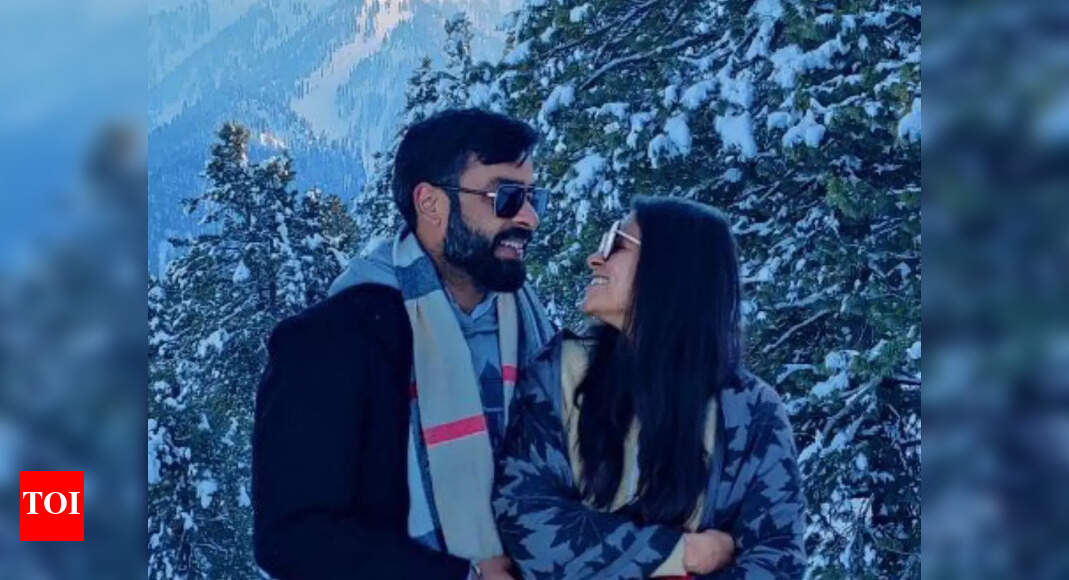 One doesn't realise the true essence of love unless put to the test. Disha and Shwetank surprisingly met each other via a matrimonial site and it was only a matter of time till they realised that they are very special to each other. In a chat with ETimes Lifestyle, Disha and Shwetank talk about how online dating changed their lives completely, leading them from strangers from two states to being hitched!
Did you ever think you will find love online?
Shwetank: Not really. But after hearing so many stories from peers and friends I thought of giving it a shot for it. I really wanted to meet someone with whom I can connect. After good six months, I met the one. We just clicked and we started chatting which later converted to calls. And boom! We got hitched for life.
Disha: They say love happens when you least expect it, which is what happened to us. One fine evening, Shwetank randomly called me saying his Dad came across my matrimonial profile; he liked you and wanted us to connect. I was like, "Umm, Yeah, okay, tell me," and we ended up having a long conversation talking about many things in common, from our profession to our interests and ranting about life after COVID. That one call led to many more calls and late-night conversations for six months.
How different is online dating from finding love around you?
Shwetank: Traditional dating depends on finding an individual that is alluring to the eye first. With online dating, initial feelings are formed by different elements, for example, age, vocation and side interests since there is no eye-to-eye contact at first. In online dating, your first impression really matters as the other person can easily disconnect and then there is no going back. You have to be honest about what you do or how you are in person in real life.
Disha: I find the concept of online dating pretty cool. You get the liberty and platform to connect with the person you like. Chatting before meeting a person also gives an idea of what kind of person they are and whether you guys can get along or not.
What are some of the things you don't like when dating online?

Shwetank: Low response rates—women are bombarded with more messages than they know what to do with. That pretty girl that you're thinking of messaging already has 100 messages like yours. So, it is difficult to get on board with someone unless they talk to you.
Disha: We were dating online, living in two different cities, so long distance was something I hated the most because there are some days when you miss your partner, and they are just not around. But I believe that also kept the spark and excitement alive to visit each other every month.
Were you putting up your perfect side while dating online or via texts? Or were you your true self?
Shwetank – Initially I was a bit nervous and was putting up a perfect side of myself. But after a couple of weeks, I was comfortable and started sharing things with her like how I am in person. I feel one should always share things when sure as sharing your things in a go can hit back you if the other person is just fooling around.
Disha: Since I was looking for someone to settle with, I was clear in my head about portraying my real self and letting the other person decide whether he can love me for the rest of our lives.
Can you tell us what your dating bio was about?
Shwetank: Bios were the best thing to read as of course it was created by parents. But when I went through Disha's bio for the first time I was a little sceptical since this girl is vegetarian, and doesn't party or booze. On the other hand, I loved partying and having chicken every alternate day. But still, I gave it a shot and we spoke. Guess what! Our habits were the same—we both were party people, travellers, and big-time foodies.
Disha: I don't really remember but it was related to who I was and my likes and dislikes.

Is connecting over online dating apps as exciting as meeting someone in a physical space?
Shwetank: Both online and meeting in person have their own charisma. People can be poles apart but may like each other. Whereas, even if two people have the same thought process they may not like each other. We just clicked and became #dalchawal for life
Disha: Both are equally special in their way, but meeting someone online generates a different level of excitement, especially in the first meeting.
What drew you to your partner online?
Shwetank: I found Disha very cute, caring, and honest. That bubbliness in her just took my heart away. Her smile and eyes were always there whenever I thought about her. In fact, I got used to seeing her smiling face so much that my poetic side awakened and I wrote something just about her different moods and her smile
Disha: The things which made me fall for him were his sweet, loving, and caring nature toward his people. His optimism, calm and composed nature and passion for things he does and likes are what drew me towards him. His love for animals and random poems and write-ups made me feel so loved!
Did you come across any fake profiles or false identities online? Any tips to tell if a person is real or fake?
Shwetank: When you speak to someone for some time, you get an idea if someone is being fake or true to you. In any case, you meet some fake profiles and end up spending a lot of time on them. Slowly, that's how you get to know if they are fake or real.
Disha: I have personally not met any fake profiles but I know a few friends who have faced such situations. In such platforms, I believe one should not trust someone blindly and listen to your instincts if one smells something fishy.
Was it love at first sight when you both met or did you take your time getting to know your partner?
Shwetank: It's a story of 'Two States'. I was in Delhi and she was in Nagpur. We met online during the pandemic, so we started with chats, then calls and later video calls. We were pretty much in love within five to six months' time. But since we had not seen each other in person so we didn't want to jump to a conclusion. Soon travel was allowed and we planned to meet. With all those restrictions I had taken a flight to Nagpur, we spent our day where Disha took me to places and we decided it was time to take our next step and be together forever
Disha: It wasn't love at first sight, but the more we spoke, the more I fell for him. Our similar nature, love for dogs, food, clubbing, and travel brought us closer.
Read also:
Swipe for love: "My dating app bio was 'Here for true love only'"

Read also:
Your daily horoscope: 20th September, 2022